I am fascinated of makeup and of new trends and I give you my small tricks to make a perfect and cheap make-up
I have no favorite brand, I make out a will a lot, and I rarely buy twice the same product.
To start , think of analyzing the nature of your skin.
She can change according to the seasons, a single majority for everything skin types: be nourishing and hydrate.
Before to start, I having spent a small blow of tonic with a cotton on my face
I use:
Sérum Roll-on Lift + Super lisseur rides SPF 15
It is necessary to know that a make-up will always hold better on a well hydrated skin.
Then let us pass in the foundation.
There is more complicated, because there are several possibilities, let us take the most current situation, a normal day subway, work, sleep.
Choose a fluid foundation and not too much covering otherwise you will look like this: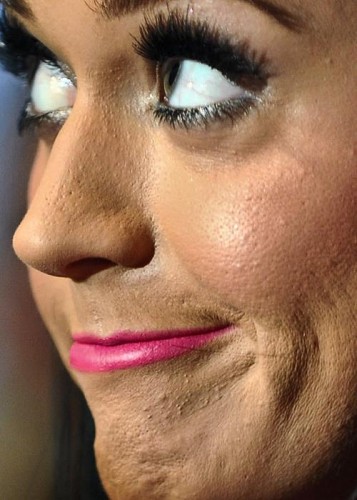 Not Glam, for information it is Katy Perry, and yes even the people are not shielded from " makeup fail ".
So, for myself, I use at first a matifying on the zone T of the face and I apply my foundation cream:
And other trick, apply to the brush by making small circular movements.
Take then a small handkerchief and put delicately for remove the surplus if there is...
Don't use the powder because it is going to make an effect not very sexy "cardboard", choose a fixative spray:
That this is top and as we really have to put only a small mist (vaporize in 30cm of the face and let dry) you have it for a moment.
If you are as me and what your rings are particularly visible, put before the spray fixing a small touch of full coverage concealer, but always in very small quantity and slightly more clearly than the foundation cream. (Apply to the finger it is better)
Well, the foundation it is OK, now, eyes.
Sure, we have all different colors of eyes thus I give you some associations of colors
For the blue eyes:
For the green eyes:
For the brown eyes:
They are only suggestions, it will be necessary to see also the colors of your dress, but these associations make a good effects.
Always put at least 2 colors on eyelids, the most dark at the outsides.
Let us pass with lips, also, choose clear colors, because this year the nude is very trendy and anyway we choose either eyes or lips has to put to advance but not both otherwise because it is going to make at once « tobacco jar » (french expression) lol!!!
My selection:
You can make a small line of Lip penci but always in the same color and not too much darkened.
To finish a small blow of blusher on cheeks for the healthy look effect.
Prefer colors peach than pink because it is not the effect doll which we look for.
OK for the blusher, but how to put it
Tricks :
Apply with a not too big brush,
And shade off with a big brush then,
Ok, that's it for today,
The next article will be look more on the party make-up.
Good day in all.
See you soon